A white mist blinds you as you journey onward. Not far you spy a sign:
---
Welcome to Dagorhir,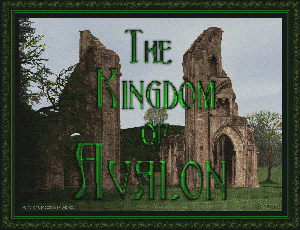 Kingdom of Avalon
Akron Ohio
A Non-profit Organization
---
HAIL AND WELL MET, TRAVELER!
You are traveler number
to have passed this way since
December 6th in the year of our Lord 1997
I and my compatriots are part of a national group, collectively known as Dagorhir. It is part improvisational characterization in a medieval setting and part contact sport. The sport has been defined as:
"The freestyle simulation of Dark Age battles, featuring period
weaponry constructed of foam, period costuming, and historical,
as well as, fictional characterization in various scenarios
constructed to challenge the participants, including team and
unit battles, as well as individual combat." - Raven Rose
Although the rules are similar in each kingdom, many rules may differ slightly from state to state. The following items are true to the Kingdom of Avalon, whose center is in Akron, Ohio. The Kingdom of Avalon is made up of members of age 15 and up from the surrounding areas. Members enjoy playing in a LARP (Live Action Role Playing) environment placed in a medieval setting. This setting includes costumes, characterization, character history and medieval-style warfare (this is a FULL-CONTACT sport), along with medieval social activities. This improvisational role-playing revolves around having fun, but foremost, having fun SAFELY.
Each battle simulation involves combat with foam padded weapons made to simulate the real thing. In most cases, "weapons" are made of PVC piping fully covered in foam and duct tape. Each "weapon" must adhere to standards set by the kingdom ruling body for safety. These standards include, but are not limited to: materials allowed in weapon construction, length, flexibility, etc. Each weapon is tested before it is allowed onto a declared battle field. Should the weapon be considered unsafe by Arms- Master (people designated to check for weapon safety) or a Herald (those designated as "umpires"), the weapon is pulled off the field until it can be repaired to meet safety requirements.
If you have any questions or comments, please e-mail me. Many thanks for visiting.
---
---
---
sam@lek.net
If you prefer snail mail, write us @:
Kingdom of Avalon
Box 3066
Akron, Oh 44309-1065

This page is maintained by Eldarin, Kingdom of Avalon

Created: 8/20/97.
Any information quoted from "The Round Table" is
(c) Copyrighted by Dagorhir, Kingdom of Avalon, 1997.


Any other quotes belong to the original authors.
Many thanks to Winfang and Chris Miller for his help in getting this page together
---