The mist continue to blind you as you journey onward. Suddenly the mists clear and you find yourself miraculously on a path leading from the misty forest behind and a trail winding along the rolling hills surrounding a castle in the distance. A sign post reads:
HAIL AND WELL MET, TRAVELER!
Welcome to Dagorhir,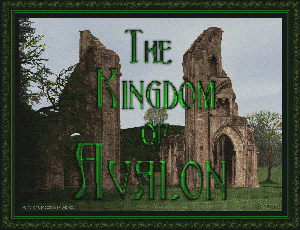 Kingdom of Avalon
You turn to see a dark mane, elven male leaning on a bow just inside the tree line. He greets you with a wave and mischievous grin.
"You seemed puzzled, my wandering friend. I see you have a few unanswered questions, mayhap? Maybe I can help you. You have just entered the Kingdom of Avalon. Allow me to introduce myself. I am Eldarin of Avalon and the Kingdom's Wandering Sage and Scribe to the King.
The Kingdom of Avalon meets year round at the primary battle site at Hyre Park in Ellet EVERY Sunday of each month through most of the year. There are other sites, including a battle site in Alliance, Renaissance Faires, and various demonstrations, where we are asked to perform.
Dues of $1 per month are required for members in good standing, with a minimum of $5 at a time. Monies collected go toward Kingdom events. This includes, but is not limited to, insurance, newletters to the paid members, feasts and other cases where the Kingdom is required to pay fees.
If you have any questions or comments, please e-mail me. Many thanks for visiting with me. Until we meet again, traveller. May your journey be pleasant and wine sweet. "
Eldarin waves as he follows the trail toward the castle.
A sign post up ahead points to:
---
Introduction to Dagorhir
A brief overview of Dagorhir
Visit the Castle
This section includes descriptions and histories of the households, baronies and inhabitants of Avalon.
Timeless Tales
Referances that you would find in any library. Includes rule books, Kingdom Histories and copies of old newsletters.
The Golden Pheonix
Ahh... the town tavern. A place to go and hear rumors and tales told.
Get 'Calendar of Events' from Eldarin. Includes dates for battles, meetings and other related events.
Also has directions to different locations and maps to the University of Akron and Hyre Park.
The Pheonix has a link to the Dagorhir Chat Room (provided by Darryn Moonstorm).
Art Gallery
A fine collection of photos from different events and artwork. Also visit the HALL OF KINGS, which features past rulers of Avalon and a few other positions.
The Ferry
A list of links to other sites. Always under construction. If you have any links you would like to add, please let me know.
Mage's Tower
Though not formally part of Dagorhir National, a group of people have banded together as the Spellcrafter's Guild to add magic to the game.
---
sam@lek.net
If you prefer snail mail, write us @:
Kingdom of Avalon
Box 3066
Akron, Oh 44309-1065
This Dagorhir Webring site is owned by Dagorhir, Kingdom of Avalon.

This page is maintained by Eldarin, Kingdom of Avalon

Created: 8/20/97.
Any information quoted from "The Round Table" is
(c) Copyrighted by Avalon Publishing, Kingdom of Avalon, 1997.


Any other quotes belong to the original authors.
---